I was already looking forward to the weekend because of the primitive meeting on Saturday---but Friday turned out to be just as exciting! My online friend, Josie, who I have gotten to know through the Country Sampler magazine forum, invited me to join her at her in law's family farm, which is only five minutes from my house, to tour the old farmhouse and barn. What a RIOT! Not only was it delightful to meet her husband and his parents and aunt and uncle, but Josie and I hit it off and had a royal blast together! I hadn't laughed that hard in a long time! We started out nosing around the old barn and shrieking over all the rusty treasures we were discovering---most people would call it old junk---but we were in seventh heaven! I think her husband was a little surprised to hear that there yet another woman on earth that loved primitives as much as his wife! We just had so much fun. I guess our laughter carried so loudly through the farmhouse that it was heard even outside where the rest of the family were gathered! I'm sure they thought we had just lost our sanity that day as we dragged our old rusty treasures out of the attic and the basement and into the kitchen into a big pile. We even discovered an old fire extinguisher on the wall outside the kitchen door to the basement, and we had one heck of a time ripping that thing off its nail! Oh was that hysterical!! And such a sweet family, to welcome me in and let me treasure hunt with Josie. That is one day I'll never forget!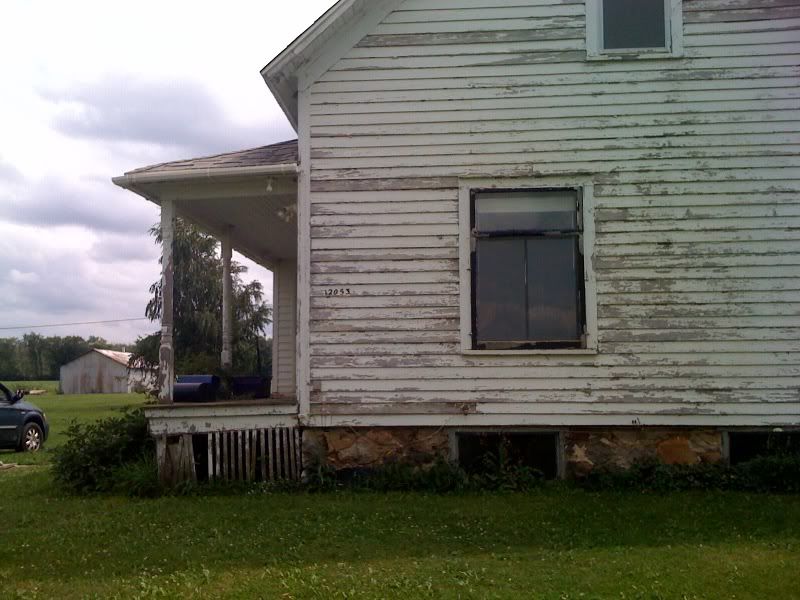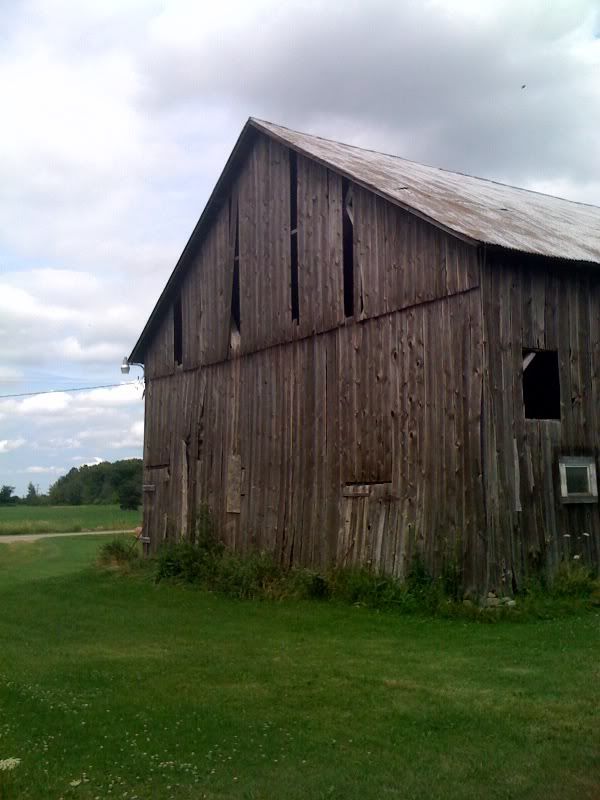 Saturday was our first chapter meeting for A Primitive Journey (where members from around the state meet on the third Sat. of every month to enjoy a day of antiquing, chatting, touring and of course, eating, with other primitives loving friends). The plan was set to meet at the Pride and Country Village in Saginaw, MI at noon for lunch and then shopping. You can check it out here: www.prideandcountry.com.

Before I even left town, I had plans to pick up an old dry sink cupboard from a house in town that had been listed on Craigslist. It was so wonderful that I knew if I didn't grab it asap, someone else would, and Lord knows I've been searching far and wide for a dry sink FOREVER. This one had original mustard paint even! So I took my 13 year old with me to help load it into the van...I had to drop him at a friend's house before I left town for the meeting, anyway.

We knew the street that the house was on and we began watching mailboxes for the address. When we found the mailbox and looked across the road, I said, "NO way, that can't be it. No one lives in that old house!" It looked like a real haunted mansion, with a tree lined little lane leading to it. Sure enough though, that was the house that belonged to the mailbox, so I pulled in up the lane and around to the back of the house. There was a back porch with an open door, but the inside looked pitch black. PJ said, "I'M not going to the door...." and I said, "Um, I don't think I AM either!" I'm serious---it looked haunted. I tried to call the phone number on the listing, but the number was having trouble and wouldn't connect (ironically.) I just kind of sat there in my van, not knowing what to do, when all of a sudden, a woman walked out from behind the garage. She was human, no ghost as I kind of was expecting to see!! So I jumped out of the van and greeted her, she called me by name and asked if I was there for the dry sink. I was so relieved!! Here is what the house looks like: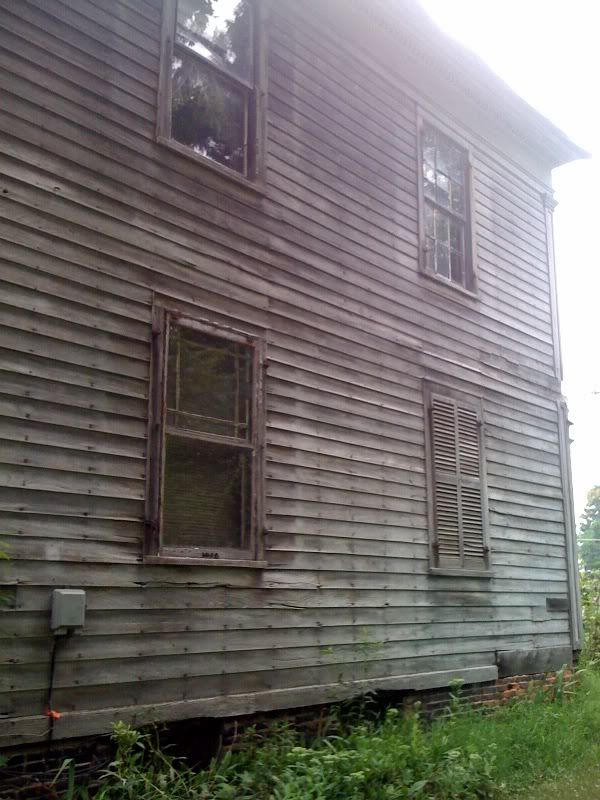 And this is the dry sink now that it is all cleaned up, waxed, buffed, and decorated!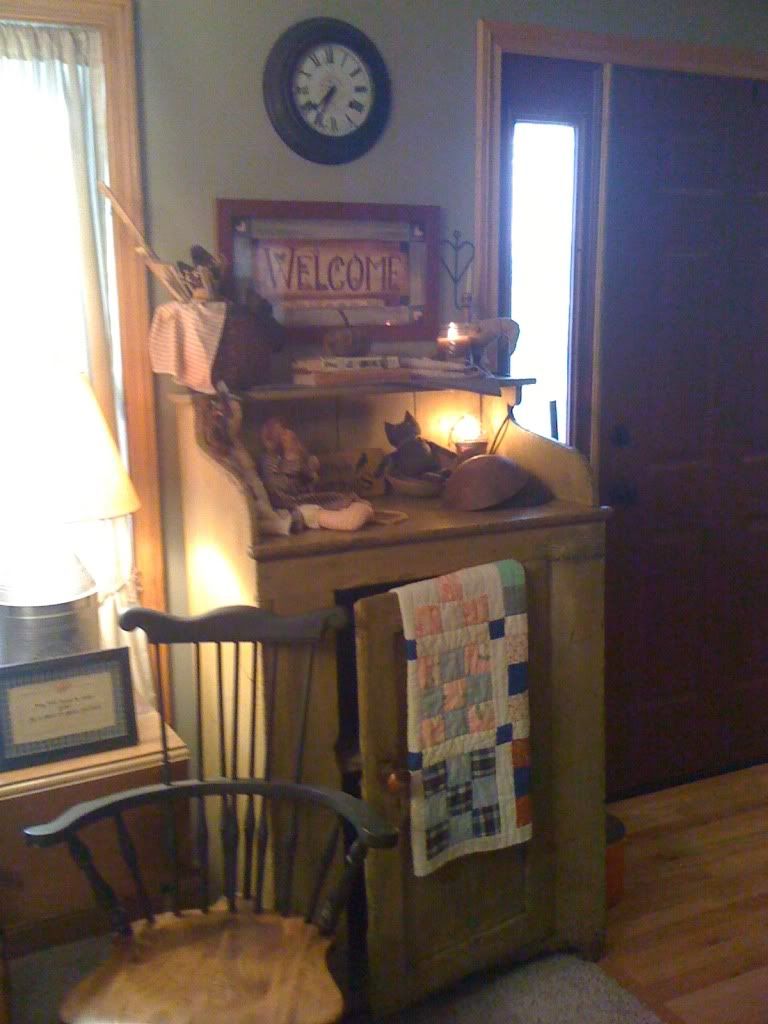 She told me to back up to the garage and when I did and got out to see the dry sink in person, I was in LOVE with it! It was filthy but awesome. I told her that I didn't realize anyone lived here and she started to tell me about the house! You could tell by the light in her eyes that she is in love with the property. It's always fun to meet someone like that! She told me that the house was built in 1832, and it was the oldest house in town still standing. It originally had 2800 acres! A blacksmith shop, a livery, and several other outbuildings which had been torn down over the years as the property was sold off or bought by the growing community. They even found the original deed and map to the property! I can't wait to see the inside of the house....I was in a hurry to get on the road because I had a 1.5 hour drive to the meeting, but when she told me she had two other primitive pieces for sale, I knew I'd be back. Lucky for me, she was going on vacation and wasn't going to advertise them for sale and she promised to contact me when she got back. The dry sink was loaded up, and we left. I hit the road for the APJ meeting!

I hit traffic on the way there and thought for sure I'd be late, which would be awful for the Director!! By the hand of God, I walked in right at noon and the Phyllis and Jim Wenzel were already there in the wonderful, antique filled deli at the village. It was like we were instantly old friends! I sat with them and started gabbing as we waited for other members to arrive. They own Creekside Country which sells handmade wooden primitives and their work is amazing!! They were just the featured artists in the new ezine, Down the Primitive Path.

Not long after, Tasha Posey arrived, and again--it was like meeting an old friend! There is something special about primitive loving people. They are like an old soul, and you immediately connect with them. We ate lunch, which was wonderful, and shared lots of stories about our homes and where we come from. We enjoyed meeting the chef of the village, John, who often came out to check on us. Had we had more members at the meeting, we would've had our own private vintage dining car from an old railroad to enjoy our lunch in! Maybe next time...that would've been so cool!


After lunch, our little group headed out to explore the village. It is composed of several old buildings, most of which were moved to the property, and they are filled to the brim with antiques and primitives, quilts, homegoods, furniture, clothing, purses, garden decor and candles. It just feels like it is never ending! I found myself even taking pictures when I went to use the bathroom! It was adorable in there!



I really enjoyed spending time with our members. We had so much to talk about and so much to laugh about! It truly was like finding out you had a twin and that you were separated at birth. Having so much in common allows for such enjoyable conversation! Tasha and I were sharing stories and laughing so hard back in the deli when we took a break to get a drink later in the afternoon, that one of the workers even commented about how nice it is to see old friends get together for fun. We tried to convince her that we had JUST met that day for the first time and she couldn't believe it!!

I tried so hard not to buy anything because I blew my spending money on that great dry sink before I had even left town, but in the end, I couldn't help myself. I found a homespun curtain for our master bath, a wrought iron reading lamp for above our pencil post bed, and a quart of Old Forge Mustard paint by Olde Century Colors, which is a paint company I'd always hard marvelous things about but never had a chance to try it, as it isn't sold near my home. OH and an antique cutting board that Tasha found in the 'warehouse' ...only $1! It's kind of like a garage sale back there, mixed with discontinued items and antiques that they didn't seem to find room for in the rest of the village. I got there a moment too late...only to see a wonderful old red cash register go out the door---would've look perfect on my kitchen counter underneath my big Mercantile sign---it sold for only $25!! Oh well. Can't win em all!

Overall, it was a wonderful weekend, and I can't wait to see my prim friends again!! Next month our APJ chapter will meet in Holly, MI for day of antiquing in a vintage little downtown. Sounds like fun to me!