One of the last rooms in the house to decorate is our master bath. When all the other rooms were at least painted, this room stayed the old flat white it came with. There was no door on this bathroom until recently, and truth be told, I pret
ty much hated t
he room. Other homes we had didn't even always have a master bath...I should've been more grateful to have
it. But without even a door?? Husband often asked when I'd be decorating in there...as much as he isn't into the whole "home decor" project, he does appreciat
e what I do and obviously prefers that it gets done.
Other than no door and flat white paint, the room has a walk-in, roomy shower, a vanity which is dark cherry, and dark cherry Pergo flooring. The focal point of the room is the gigantic jacuzzi tub, which could easily fit six people (why I don't know, in a b
athroom...) and the tub surround is also, brace yourself...dark cherry Pergo flooring. Yes,
that's what I said. Pergo flooring surrounding the TUB. All of the wood in the entire house is honey oak. Floor, doors, trim, cupboards...except all this random dark cherry in the master bath. Oh. Forgot to mention, the trim around the window and doorway in the master
bath, is honey oak. Which really looks weird p
aired with all the Pergo cherry. Overall, I was just c
ompletely blocked.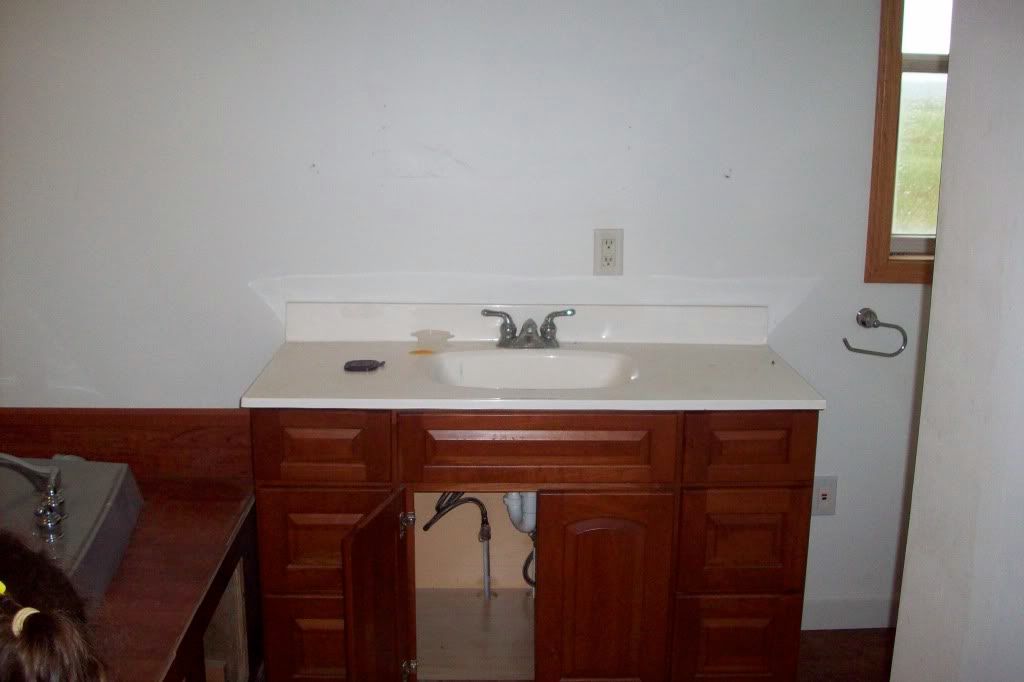 The tub area takes up half the room. As much as I liked the idea of having a huge jacuzzi tub when we bought the house, I have found that I use the main bathroom tub way more often--it is a jacuzzi too, just a normal sized tub. This
master bathtub takes FOR-EV-ER to fill up. If I had my way, I'd prefer a clawfoot tub in its place, with room for a large, antique linen press or cupboard. Oh well, I have to work with it....there is no way to get it out in one piece and it seems like a sin to smash it into bits when tubs like this cost thousands to buy.
I finally got so tired of the blank walls that I picked a color. I knew I wanted some kind of mustard and after spending hours pouring
over paint chips, I went with something called Fall Leaves. It's a gorgeous color inspired by my favorite time of year, and I figured it would work well with the adjoining master bedroom which is a subdued sage green. But when I got it up on the wall, I wasn't so sure. It really is a pretty color, but it is really kind of bright. At first it looked more like tangerine than mustard. Once I started putting a few things around the room, it did warm up a little. I'm still not in love with it for th
is room but I'm working with it for now.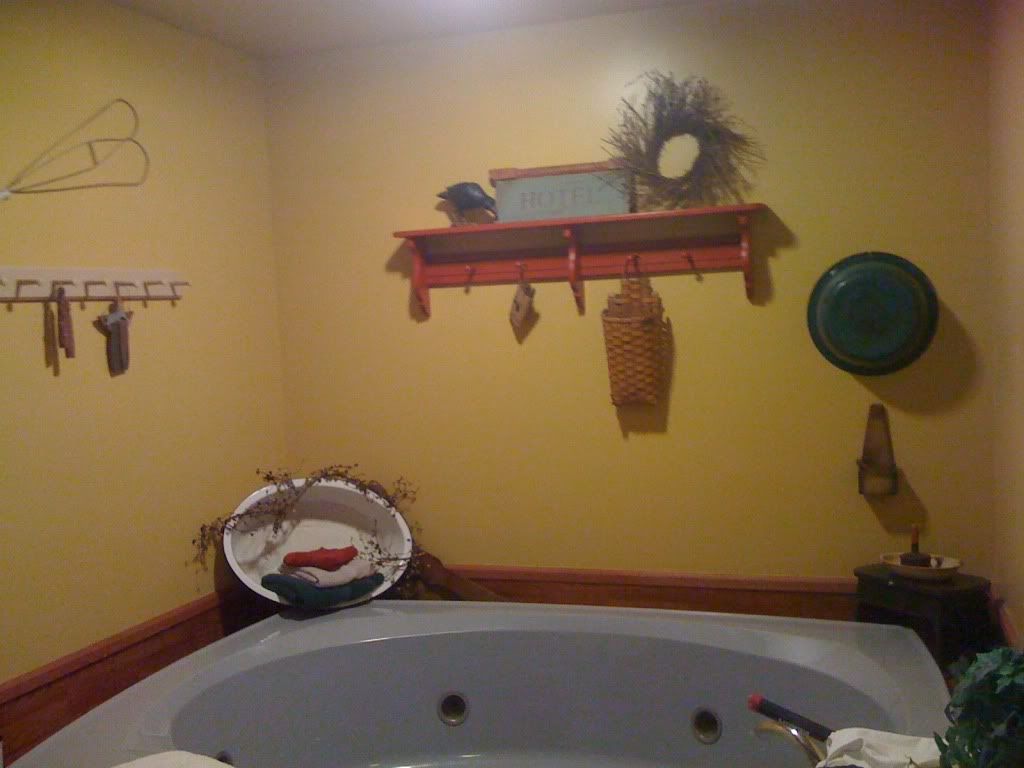 It is slow going. I have a tin colonial chandelier to put up over the tub, and I need to do something with the tub surround to cover up the cherry. I have since painted the vanity black and I found primitive star drawer pulls to add to that. There are large cut-out areas which were never finished by the previous owner in front
of the tub surround that have to be covered up, too...but until I make a decision about what I want to cover all that with, I've opted to keep decorating so the rest of the room feels cozier and more enjoyable to be in. We moved the oak door from the downstairs laundry up to this bathroom, so at least there is a door, now, too.

Most recently I have decided to put a Shaker drying rack around the tub to create some privacy from the rest of the room. I added se
veral pieces of vintage undergarments to the rack, and I have more in transit from eBay. I love the way it's turning out, though again, it's far from finished. I'm hoping to find some vintage soap cans and/or bath oil bottles to fill the empty shelves with and more vintage undergarments. I also have a larger washboard to add in. What do yo
u think so far?