Well, the school year and Fall Welcoming was going so well! Or so I thought....The night before last, we picked the kids up from their first day of school (and they were just bubbling with details of new friends, old friends, teachers, lockers, you name it!) .. but Jillian was a little off, she had a headache, and she fell asleep within five minutes of being in the van. I chalked it up to the first long day without a nap (she always had a half hour nap in Kindergarten after lunch, and in first grade, it's all business!) Well, she slept the whole way home and then Daddy carried her to the couch, and she slept for another few hours! Wow. Well, I had another Craigslist adventure to go off to take care of with my mom, so Daddy stayed with the kids at home. (I'll fill you in on the CL adventure in a moment, stay tuned!) When I got back into town to my mom's house to drop her off, Daddy called me to announce that Jillian threw up---all over the bathroom and that it was EVERYWHERE. He was not amused, and was trying to figure out how to clean it all up, while she was in the background just WEEPING because she knew she wouldn't be able to go to school the next day!! Oh my poor girl. She's caught the flu on the first day of school??? UGH!! There went the first quiet week. And of course I had visions of the flu going through the whole house and as I drove home, I made a mental list of which cleaning products I was low on, thanked God that I cleaned the house as well as I did, and wondered how I would manage being up all night with one kid and still manage to get the other two to school on time, with a half hour commute.

By the time I got home, Jillian was begging for freezepops and felt oh so much better. She was, in fact, almost dancing around the room, and she had not gotten sick again. I started to wonder if the vomiting was more from the headache, which may be from the excitement and overstimulation of the day, and not from the flu. She's not one to get migraines, at least never before, but she does suffer from severe growing pains, especially during the night, when she's got growth spurts, mostly centralized in her legs,--which her father and I both suffered from as a child, as did our other two kids (though less severe)...so again, it could also be a growing thing. (yes, I do over-analyze, sorry!) So, I tried to keep her motion at a minimum, and got her to eat freezepops while she watched the Little Mermaid two times in a row--her current favorite movie, one of which we didn't have but I scored during my Craigslist run and found it for sale in the seller's garage! Phew! Talk about timing. Anyway, I got the boys to bed and Dad went off to bed (he had to rest up for his 5am fishing venture---don't ask.) I sat up with Jillian until the movie finished and finally got her to go to bed. I slept with one ear open fully expecting a night full of, well, YOU know...but thank God, she never got sick again. I lost sleep anyway, just worrying, but I managed to get the boys to school on time and took her along in her jammies. She was soooo bummed about missing school, but if there was one slight chance that it was a flu bug, I wasn't going to chance her getting sick in school or her passing it on to her new classmates. So I spent the morning yesterday, a complete vegetable. Managed to get through the day without a hitch, but looked forward to bedtime more than ever!

****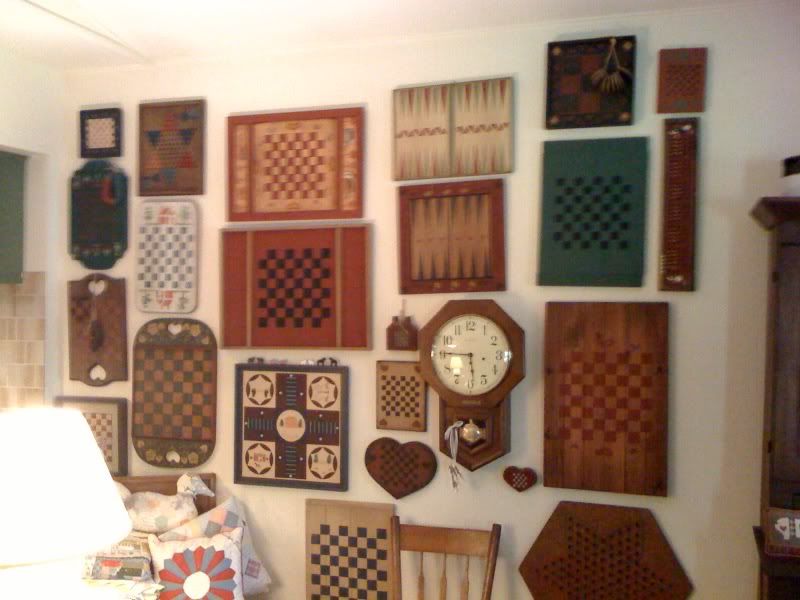 OK on to the Craigslist adventure report!! Two weeks ago (or so), I sold off my dining room set which was too big for the dining room in this house, much to Husband's chagrin--he loved it, I guess. Oh well, Moving ON! I needed more primitives in there...and the reproduction set was too new. I found a circa 1800 Farmhouse table on Craigslist about an hour away, and negotiated a good price, and my mom and I went to get it. Well, did I ever hit a honey hole! I was walked into the finished basement and I noticed that there wasn't just the table, but there were crocks sitting around and a lonely old bench or two...so I HAD to ask..."Excuse me, are those crocks for sale?" Well, turns out I was talking to the son of the woman who was selling----are you sitting down---nearly ALL of her lifelong primitives collection because she was moving to a condo!!! I'm like, um, OK ... I'll take those two crocks and that bench....and my mind was racing! Nothing was really "priced" but he and his mom happily gave me a number on whatever I asked about. Thank God I was able to find a little extra $$ in the car....though I was kicking myself for not having won the lotto before this CL run. I even asked to take pics of her displays because they were so beautiful. She was flattered. They told me they were planning on having an estate sale in two weeks (actually, it begins in forty minutes from now!) I left there with my table, some crocks, and two magnificent benches....OH and four old gameboards. I'm so stoked about this story that I don't even remember if I blogged about it or not, so if you're reading this and it's old news, i guess you can skip over my ranting!! I know I posted it on the CS forum for sure...**sigh**! I think I remember someone saying that short term memory is the first thing folks lose?

ANYWAY....my mom and I were just falling apart all the way home, drooling on all the things we left behind, and I was just shaking. She had WONDERFUL prices--I mean SERIOUSLY low prices compared to shops. OH I just remembered, I got a firkin, too! So I kept chewing on the thought of this really old dry sink she had for sale. I just bought that mustard dry sink...but truthfully, the one this woman had was the style I'd been searching for for years. I knew I had work to do at home: Start Selling and Raise Money to Go Back!! And that's exactly what I did. I sold the mustard dry sink, and I sold two other cupboards which were in front of my kitchen slider door, which was more than enough to buy the dry sink. I was so excited! I emailed the son and told him to hold it for me, and that this past Tues, I'd come back to pick it up.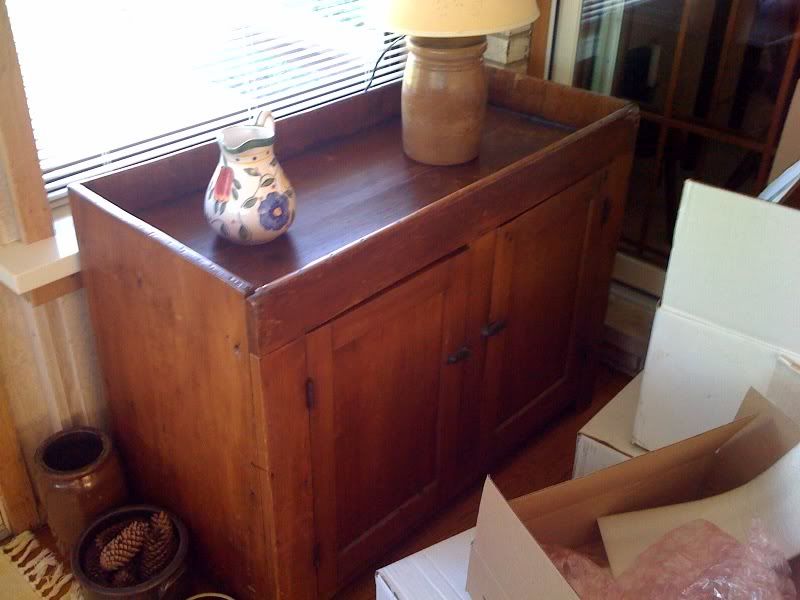 Tuesday, my mom and I drove back down there, another hour and twenty, and when we went in the house, everything had been brought out for the estate sale and most things were priced. We about fell over!!! Game on!! I bought several old baskets, the dry sink, more crocks, several butter paddles, and a little bench...My mom bought two crock lamps with gorgeous paper punched shades, a small bench, and a gameboard. We packed the car and it took all the willpower we had to get IN the car and not go back for more! We literally got to the end of the subdivision and my mom couldn't help it. She had to go back for the Parcheesi gameboard. We turned around the pulled back in the driveway, and I jumped out of the car---"We're BACK! We missed you so much we had to come back!" The son and his wife cracked up. I bought the gameboard and we left. Well the whole way home, Mom and I chatted about the prices and how we'll never see that kind of quality primitives again let alone at those prices! It was crazy! We had already made two round trips, I'm not even going to attempt to add up the miles.

After I dropped her off and came home, she called, and we blurted out at the same time---"We need to go back and get all the rest of the gameboards!" The woman had an entire wall full. My mom couldn't believe the transformation her family room was taking, just from the new crock lamps and bench and basket! It went from ho-hum to prim-love in five minutes! So I immediately emailed the son AGAIN and negotiated a price for ALL of the gameboards as a lot and also told him I wanted the skinny brown crock jug lamp that I stupidly didn't buy when I was last there.

SOOOO, after being a vegetable all day with Jillian bouncing off the walls, we left to get the boys from school, dropped one off with Grandpa, picked up my mom, and left to drive the hour and twenty AGAIN...third time! This time I knew the route all the way to their house like the back of my hand. This time, we made sure we went room to room to room to be sure we bought all we wanted. I'm in debt now. So much for groceries next week! ;-) THIS time, we left with at least 15 gameboards, another little bench, a jug lamp, a quilt for Mom's family room wall, more baskets, a rolling pin, a masher, two more sifters for my ever growing collection and some other little kitchen gadgets. Unreal. We were just mesmerized! While driving home, we STILL wished we had had the $$ to just literally buy everything she had for sale and call it a day. Oh well, what's done is done. We seriously have to enjoy the loot we hauled and move on. But do you know what? My mom called me last night while I was on the way home, and told me how upset she was that she didn't buy one more old bench and the wrought iron prim floor lamp. AUGH!!! I'm like, 'OK Mom, what time are we leaving in the morning to go back??" "NO, NO NO, we can't go back. We're done. Three rounds is enough!" So we're done. I guess we're done...what time is it? Oh drat. The estate sale is about to begin, and I have to forever live with the vision of other folks buying all that stuff we didn't buy. Can you imagine---I did not buy 15 other crocks? I did not buy three other benches? I mean, I know I'm pressed for space and money but holy cow. I need therapy just to sooth my psyche for leaving that stuff behind!! I did promise to send them pics of all of her wonderful primitives once they're worked into my home decor. (And, p.s., I did tell the son to email me if there was ANYTHING left after the sale....hehe!)

So, today, all three kids are in school and I have major work to do. I have to "find" the dining room which is now literally a giant pile of antiques and primitives. I have to finish painting the living room TV wall and I have a little cupboard that needs paint in the dining room. Not sure how much I'll get done, but that's the list!! I'm seriously sitting here with goosebumps just thinking about everything that transpired these past two weeks....and I am so, so thankful to have been allowed to cherish these old primitive treasures from that woman's lifelong collection. I will love love love them as long as they are in my care.

After all, the love of primitives is more than just a hobby and a collection. It's a journey of responsibility....these precious pieces are part of history, they have been shared by many unknown hands...used in several homes...contributed to the care of many a family. Each piece is part of a long, sweet trail of history, must of which we will never know....but cherish, we will.